COSMÉTICAR FOR PROFESSIONALS
With our nationwide network, CosmétiCar is the ideal partner for companies that want to maintain their car fleets and enhance their brand image.

A LOCAL OR NATIONAL COMPANY
CosmétiCar is the ideal partner for all companies that want to maintain their car fleet.
Whatever the size of your fleet, we come to you and wash all types of company vehicles (from vans to executive vehicles) on site. Different packages are available depending on volume and frequency.
We also offer a Fleet Management service.

Offer an increasingly popular service to your customers: car washing. In addition to washing, we can monitor the condition of rented vehicles with our service reports.
We can also offer our reconditioning services for returned vehicles.

A DEALER, A CAR PROFESSIONAL
CosmétiCar prepares the vehicles in your fleet in order to enhance your brand image.
From maintenance to refurbishment, we can provide service at every stage, facilitating logistics.
We can also prepare new vehicles.

A SHOPPING CENTER, A CAR PARK MANAGER
Provide a convenient, efficient and easy service to your customers.
Our unique modular wash area can be installed quickly, without construction, noise or visual disturbances.
This makes for a lively, friendly and safe parking area.
CosmétiCar is expanding to serve all modes of transport.

Private Aviation Airline

Transport company (bus, travel coach)

Passenger transport (tram, train)
Agriculture (Agricultural equipment, tractors, etc.) THE BENEFITS OF OUR APPROACH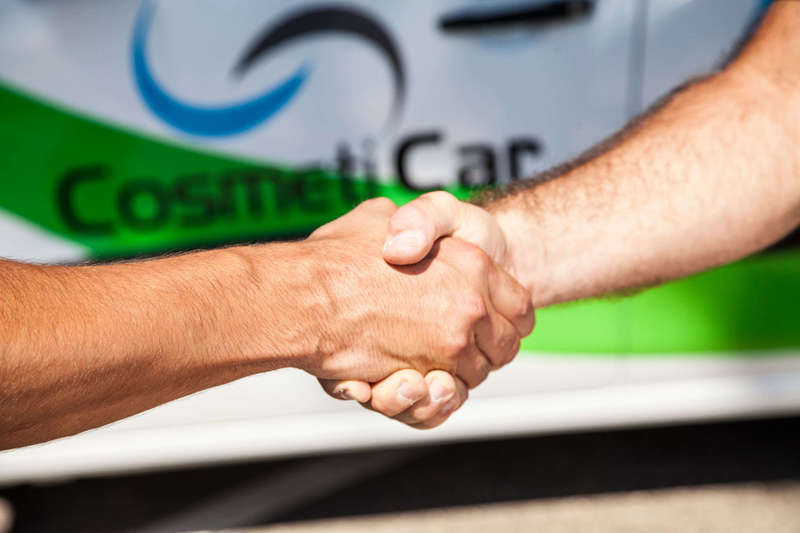 Cosméticar's quality guarantee
At CosmétiCar, we have created our own line of waterless washing products after multiple quality tests in order to guarantee you the best results. Our partners and automotive professionals are so impressed with the quality of our services that many have opened new CosmétiCar locations throughout Europe.
Sign up for the newsletter